Wilton Castle on the Wye

"HERE is one of the ivy-mantled relics that lend even a charm to romantic nature on the banks of the Wye. Its shattered tower and crumbling wall, combine with her wild luxuriance, to form a scene of great picturesque beauty."
The Mirror - Saturday May, 19, 1832
Wilton Castle is located in the heart of the Wye Valley on the bank of the picturesque River Wye. Located on the edge of the small village of Wilton means it an excellent venue with easy access, amazing grounds and a number of excellent local hotels. Additionally Ross-on-Wye is under a mile away meaning its facilities are close at hand.
The romantic ruins of a restored C12 castle and C16 manor house (not open) on the banks of the River Wye form the perfect backdrop for the gardens including herbaceous borders, beds of sweetly scented old fashioned roses, gravel gardens and shrubberies. The two acre gardens are surrounded by a dry moat which leads down to the river Wye which has ducks, swans, kingfishers etc and even otters have been recently spotted.
Wilton Castle is believed to have been constructed out of local red sandstone in second half of the 12th century replacing a Motte and Bailey. The plan of the Castle is an irregular quadrilateral formed by battlemented stone walls surrounding an inner courtyard with a fortified tower at each corner.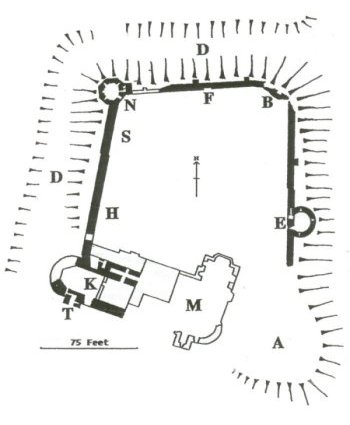 KEY:
A - Possible site of Motte
B - Site of North East Tower
D - Ditch
E - East Tower
F - Fireplace
H - Site of Hall
K - Great Tower or Keep
M - Medieval House
N - North West Tower
S - Site of Possible Solar
T - Keep Turret

An additional tower was built into the run of the east wall, and the tower in the southwest corner was extended to include the Great Hall which would have been the major dwelling place.
The East tower displays the original arrow-slits and the later, more crudely formed, holes through which small cannon could be fired to discourage a besieging force. As the military need for the Castle diminished the interior walls were given a lining of stone blocks arranged to provide nesting boxes for pigeons - an important source of protein for those living in the Castle - whereby the defensive tower was converted into a dovecote or columbarium.
There is now no trace above ground of the South-east tower, but it seems most likely that the stone of which it was built was used in the construction of the Elizabethan manor house. The ruins which have survived more than 350 years since its' destruction by fire now only hint at what would have been a handsome three-storey dwelling. A new house was constructed in the 19th century and is still a residence today.

Wilton Castle,
Wilton,
Herefordshire
Tel: 01989 565759

sue@wiltoncastle.co.uk